2 for £50 Sepecial Offer on Selected Shrubs at Great Shelford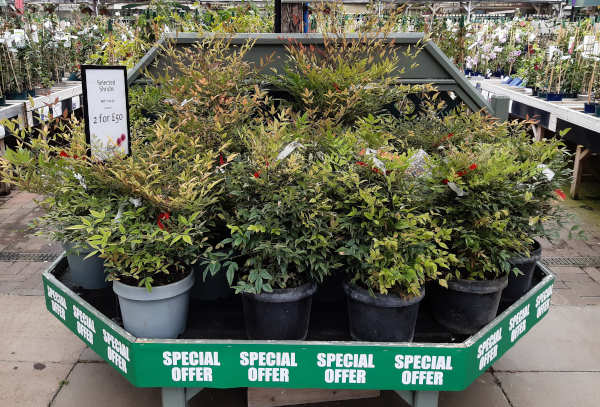 We are running a 2 for £50 special offer on selected shrubs at our Great Shelford store for September 2020 (whilst stocks last).
Shurbs are a great option to provide instant impact and an instant solution to any hedging requirements your garden or driveway may be in desperate need of.
What Shrubs are available in this offer?
All the shrubs in this offer are evergreen and include Photinia 'Red Robin' and Eleagnus 'Ebingei' and 'Gilt edge'.
Euonymus varieties are all very suitable for hedging or as specimens in a border to give structure. We have a couple of varieties available in this offer.
We also have Nandina domestica varieties 'Obsessed and 'Magical lemon and lime' which are perfect for giving texture and height to a border with its delicate leaf structure. Suitable for sun or part shade and happy in most soils.
There are also a number of Photinia varieties including 'Pink crispy', 'Pink marble' and 'Carre rouge'.
We're here to help
Don't worry if you're not sure what the best options for your outdoor space are, our specialist plants team are on hand to assist with questions and provide advice for gardeners of any level.
If you have any further questions on this offer or the plants we have available at Great Shelford, then please contact us on 01223 842777 for further assistance.
Find us: If you're not familiar with Scotsdales Great Shelford then click here to learn how to find us.