Narcissi Van Sion 6 Pack - Taylor's Bulbs
Telamonius Plenus. Narcissi Pseudonarcissus. Double yellow daffodil.
Product Sku: 343051
Unfortunately this product is currently out of stock on our website, please contact our Great Shelford store on: 01223 842777 to enquire about further availability.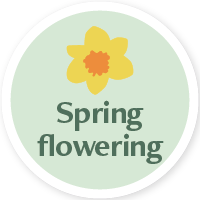 Daffodils like well-drained but moist, humus rich soil in sun or partial shade. Avoid very dry areas such as under conifers.
Expert's Tip: Allow the foliage to die naturally as early removal can cause the bulb not to flower in the following year.
Application: Plant them informally in groups; ideal for rock gardens, containers and terraces.
More Information

| | |
| --- | --- |
| Product Sku | 343051 |
| Brand | Taylors Bulbs |
| Product Code | SE1130 |
| Colour | Yellow |
| Stock Availability | Out of Stock |
| Flowering Time | March |
| Flower Height | 21-30cm |
| Planting Depth | 10cm/4 inches |
| Climate | Grows in Sun or Partial Shade |
| Spacing | 1-10cm |
| Bulb Type | Narcissus |
| No. of Bulbs per Pack | 6 |
| Plant In | August |
| Where to Grow | Containers, Rockeries |
Local Delivery Available (within 30 miles of Scotsdales CB22 5JT)
Click and Collect - Great Shelford only
Available Cambridge
Courier Available - Delivery fee set per weight of items, preview available in basket
If you're not totally happy with anything you've bought from us, you can return it for an exchange or refund.
Items bought in our garden centres can be returned within 28 days with proof of purchase.
After 28 days, items can still be returned at the discretion of our staff, excluding garden tools, electrical goods, and plants under our 1-year guarantee.
Items bought from our website can also be returned: please call us first on 01223 842777.
Scotsdales are fully compliant with all regulations concerning distance selling. You can return any item you're not happy with within 28 days of receiving it provided you have contacted us within 7 working days of receipt to advise of its return.
Unless the item is faulty, you'll need to pay postage to return it to us.
For your protection and peace of mind, we recommend you use a recorded delivery service, and check that the compensation value covers the value of the item.
To get a full refund, simply return the item to us in its original condition, in its original packaging within 28 days of cancellation.
Items should be returned to the following address: Web Sales, Scotsdales Garden Centre, Cambridge Road, Great Shelford, Cambridge CB22 5JT
Potatoes & vegetables from Taylors Bulbs
Why Shop with Scotsdales?

We are a locally-based Cambridgeshire company and our friendly staff are always on hand to assist with purchases, advice and after-care tips. We only stock the highest quality brands to make sure that we're giving our customers a guarantee of quality from the get go.
If your looking for something in particular but can't find it online, then call us on 01223 842777 to speak with a member of our team today.
Bulbs by Type

Essential Tools for Growing Healthy Flowers